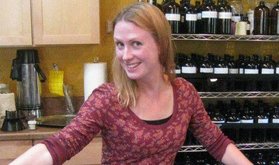 Danielle Hewitt, Sales Floor Coordinator/Herbalist/Customer Service Specialist
Danielle was born and raised here in Arcata, and studied herbalism with Christa Sinadinos at the Northwest School for Botanical Studies.  Naturally intuitive, Danielle is a whiz at creating healing formulas tailored to specific needs.  Also an avid gardener, Danielle grows many of her own herbs and veggies, and is the proud tender of plants such as valerian, yarrow, lemon balm, white sage, lavender, catnip, helichrysum, goldenrod, and so on!  As she puts it, gardening is her "jam!"
In the store, Danielle creates eye-catching displays and helps rotate our lovely window displays throughout the year.  Customers appreciate her immediate willingness to help, and love her acerbic wit when explaining herbal remedies and preparations.