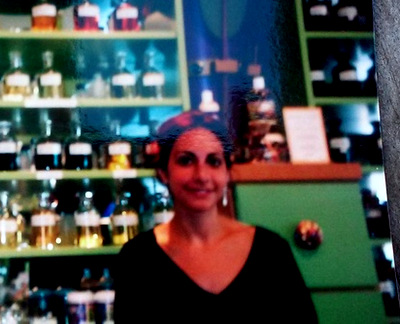 Kristina Carrara, Customer Service Specialist
Kristina was fortunate to be exposed to Mediterranean herbs & spices and helped her grandmother cut and cook grape leaves for dolmas at a young age.  She learned about food as the first "mother"medicine.  Intrigued by the slow food movement, she toured Italy's Amalfi Coast and assisted an owner on his lemon grove and made limoncello as her first cultural "tonic".
Kristina began working with perfume and essential oils in San Francisco in 2004.  In 2008, she sold orchids, ferns, succulents, and herbs. "When I learned the vanilla bean is from an orchid, my mind was blown and it kicked off my interest in Botany!".
She became a Certified Massage Therapist in 2010, specializing in kinesiology, sports massage, acupressure, shiatsu, trigger point therapies, and all holistic health.  She had the great opportunity to work at Cambridge Naturals in Massachusetts, and learned more about plant medicine and the active compounds within food, supplements, and cosmetics.  Currently she enjoys all kitchen alchemy! As an actress and choral singer throughout the 90's, she was exposed to sound vibrations and theatrical outlets.  She is now collaborating with musicians to complete her original album of soul/R&B songs.